Home -> Profile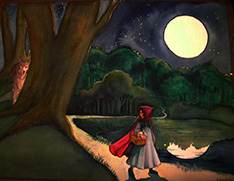 I was born and raised (and still live) in the desert southwest. One of my first memories is of sitting at a long table in Mrs. Wherrill's kindergarten, trying to copy a picture of a baby goat from Garth Williams' book, Baby Farm Animals. I drew and erased, drew and erased until there were holes in the paper. I knew if I worked hard enough, my copy would be exactly like the original. Years later, when I was working at trespassers william bookstore, I had the honor of meeting Mr. Williams and telling him the story. He signed a copy of the book for me and it is one of my most prized possessions.

I have little formal art education, but have learned much from galleries and books. My apprenticeship to Dennis Liberty taught me volumes about sculpting, and semi-private lessons with Daniel Powers taught me nearly all I'll ever need to know about watercolor. I say "nearly all" because it is a medium with many levels and I am continually learning its small subtleties.

A parade of animals have graced my life, including a rabbit named Christopher (later changed to Christine), a turtle (Yertle), two golden hamsters (Squeaky I and Squeaky II), a guinea pig (Katie), dogs (Spunky, Missy, Blossom, Tater, Xero, Genny, Maera, Samwise, and Griffin) cats (Silver, Willow, Goblin, Merry and Pippin) and horses (Porter, Maja, and Maeve). Only Maeve was technically "my horse", but all of them were dear to me and taught me so much about myself. Right now, Griffin, Merry and Pippin share my home. They bring me more joy than just about anything else in my life.

Books! I love books. I wrote my first novel, Arrowhead, the story of a Horse, when I was ten. I really wish I still had a copy of it. I'm sure it was dreadful, but I'd still like to read it! I'm an avid reader of just about anything, although my taste tends toward fantasy and faerie tales most of the time. I also enjoy reading history, biography, and poetry. I've been fortunate enough to work in several bookstores, and my book collection is enormous. Even though I may not read some of them again, I find it hard to part with a book once it lives on one of my shelves, and I perfectly understand Gollum's comment, "my precious."

I love theatre! I've done many roles in Albuquerque community theatre, including Sally Durant in Follies, Emma Goldman in Assassins, Mrs. Kendal in Elephant Man, Myrtle in Morning's At Seven, Lily in A Man of No Importance, and Sister Mary Leo in Nunsense Jamboree. I've also costumed shows like Grease, Little Moon Theater, and Rocky Horror, Live! Theatre is magic, and I am grateful that there are so many local venues for me here.

My family and wonderful friends help me to do what I do. They remind me that the world is a beautiful place, and that my art is an important part of it.